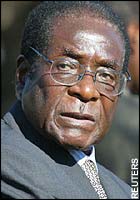 Original Article
HARARE (AFP) - Zimbabwe's President Robert Mugabe has warned new black farmers to either produce food on farms taken from whites or have the land seized by the government.
"Those with land should use it to prove they were indeed interested in farming in the first place," Mugabe said Monday at a Heroes' Day celebration.
"Those who can't produce, be warned, we will take the land back. We now need to distinguish capable and committed farmers from holders of land who are mere chancers and who should be made to seek opportunities elsewhere," he said.
Iafrica.com:
Man held for insulting Mugabe