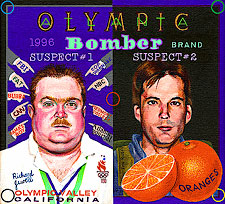 Complete Article
Gov. Sonny Perdue marked the 10th anniversary of the Centennial Olympic Park bombing Tuesday by commending former security guard Richard Jewell for his actions in the moments before the deadly attack.
Perdue credited Jewell with spotting a suspicious green backpack at the park, notifying authorities and helping evacuate bystanders from the area on July 27, 1996. The blast killed Alice Hawthorne of Albany and injured more than 100 others.
"The bottom line is this: His actions saved lives that day. He did what he was trained to do," Perdue, who is seeking re-election, said with Jewell at his side at an afternoon news conference in the state Capitol. "Mr. Jewell, on behalf of Georgia, we want to thank you for keeping Georgians safe and doing your job during the course of those Games."